Auto what?
Auto responders go by a few different names like triggered emails and drip campaigns, but essentially they are an automated email, or sequence of emails sent when a subscriber meets a condition you set.

Here are four examples of auto responders
A user subscribes and receives a series of tips, spread across a number of days or weeks. See "Grammar to Go" example below.
A customer is getting married. They subscribe on your website and enter their wedding date. They receive 10 weekly tips and things to do in the countdown to the big day.
A house owner wants to prepare their house for sale in order to get the best price. They subscribe on an estate agent's website and receive weekly tips on what changes they should make.
A business wants to add a personal touch by sending an email birthday card to clients every year, along with a special offer. See "Monty's" example below.
OK, but why set up auto responders?
The key benefits of auto responders are customer acquisition and retention. And once set up they work automatically. Like a silent salesman.
By providing tips and advice like the examples above, you are adding value for clients and at the same time building trust and credibility by sharing knowledge and expertise.
I'll make it really easy to get your auto responder up and running, including design, editing and content ideas. Get in touch to find out more.
Prices
Option
11-15 emails*
6-10 emails*
5 emails or less*
One off cost
£465
£382
£299
Ongoing cost
1p per email sent
1p per email sent
1p per email sent
*This refers to how many there are in your auto responder series. All prices subject to VAT at 20%.
If emails in the series are lengthy and complex (not recommended) an additional surcharge may apply.
Here are some examples which we've set up for clients.
1. East Glos Club
East Glos is a large rackets club in Cheltenham. As a member loyalty exercise we set up an automated birthday email which offers them a free birthday gift annually.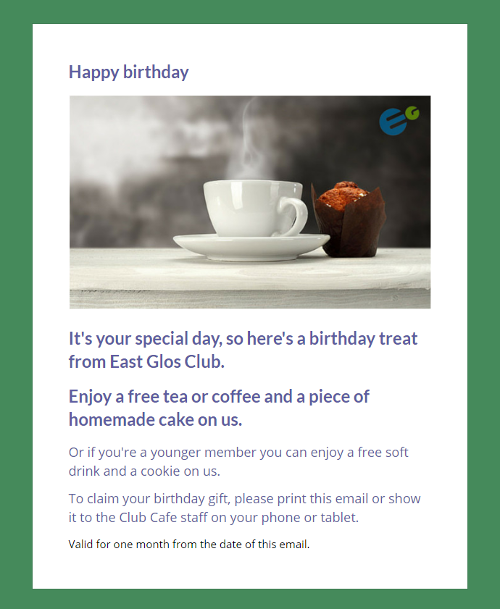 2. Grammar to Go
Users could sign up for a free piece of expert advice in writing skills, every day for 17 days with "17 Days to Better Grammar".  This enabled business owner Jane Penson to raise expert status as a foremost expert on grammar, and in turn gain new clients.