Your email campaign might look great when you send it out, but what about when it reaches the other end? 
For example, here's what happened when Twitter sent out a campaign promoting their new Twitter Ads product.
This is how it's supposed to look…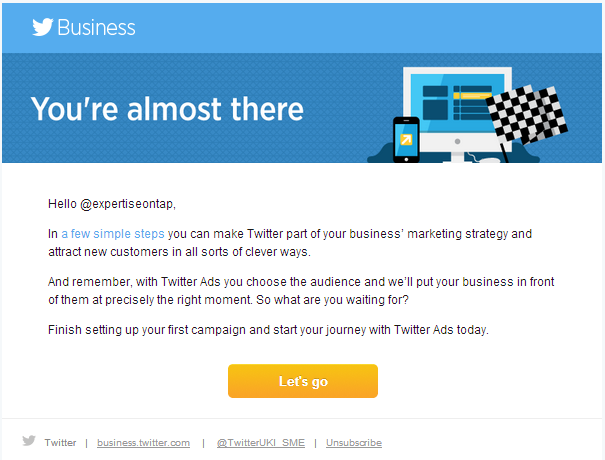 Below is how the email I received appeared in Outlook…

The blue header "Business" which should be spanning full width, no longer is.
And the body text is no longer spanning the full width of the "You're almost there" header above.
The footer content is displaying vertically rather than in a neat horizontal fashion.
Overall, the email is not displaying as intended, giving it a rather odd, disjointed look.
Imagine if this was a printed brochure or a press advert. You wouldn't be too pleased if it ended up like this, would you? An email campaign should be no different.
To explain the technical reasons as to why this happens would take a very long blog post, however to avoid this sort of scenario I have a 21-point quality control check for every client campaign I send out.
TIPS
If you're doing your own email marketing, for example in Mailchimp, send tests to a minimum of Outlook, Gmail, AOL and Outlook.com (formerly Hotmail). For the latter three it's free to set up email accounts with these webmail providers.
Test on smartphones. Definitely on an iPhone and ideally Android as well . Also test on tablet devices such as iPad and iPad Mini if you have one.
If all the above sounds a bit of a kerfuffle, why not outsource your email marketing to me, so you can get on with running your business?
If you're outsourcing your email marketing to another provider, ask them how they manage their quality control. For example do they have a 21-point quality control check like I do?